CleanBox Porta Potty Rental San Antonio
Whether you need a porta potty in San Antonio for a construction site or you're thinking about renting one for a special outdoor event, we have all different types and upgrades available for your exact needs.
Renting a porta potty in San Antonio has never been easier. Customize each rental so you and your guests can have a comfortable, luxurious portal toilet available whenever it is needed.
Full Range of Portable Toilet Rentals in San Antonio
You have multiple options when choosing porta potties in San Antonio, starting from the most basic unit you see on construction sites to luxurious models with sinks, fully flushable and more. Regardless of the type of unit you may need, you can rest assured that it will be delivered and removed from your property by experts who understand the needs of having a portable toilet available. Typically a portable toilet in San Antonio has 85 cubic feet of space for base models.
Standard Porta Potty in San Antonio: the most basic model with a non-flushing toilet, anti-slip flooring, ventilation slits and an occupancy indicator on the outside of the door.
Deluxe Portable Toilet in San Antonio: all features of standard porta potty but includes larger ventilation slits, interior shelving that may include a coat hook and a mirror. Some higher end units even have a flushing toilet activated by a foot pump.
Restroom Trailer Rental in San Antonio: all features of the deluxe unit but on a much bigger scale. Renting a restroom trailer in San Antonio allows multiple guests at a time to use the bathroom in relative luxury. Most San Antonio toilet trailer feature flushing toilets, sinks and vanity.
ADA Compliant Portable Toilet in San Antonio: all features of deluxe model but with a larger interior, handrail and entrance ramp to accommodate a wheelchair.
Additional Features
Any potty can be upgraded with additional features such as, but not limited to:
Hand sanitizer + hand washing sink
Disposable toilet seat covers
Hasp, Lock and Key (for night time storage)
Additional lighting, solar
Containment tray
Stakes for unit stabilization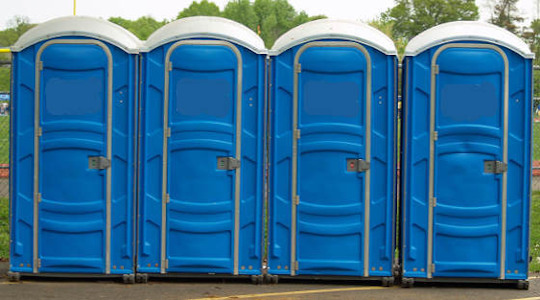 Call Now to Rent or Porta Potty in San Antonio, TX
(210) 418-1609
Costs to Rent a Porta Potty in San Antonio
On average, a single standard porta potty rental in San Antonio costs $165-210 for a week of use. However the price can go up during holiday seasons or for larger deluxe and ADA compliant units. If additional upgrades are added, the price can go up incrementally.
You can get a price break if you rent more than 5 portable toilets, or if you are a regular repeat customer. Speak to a San Antonio porta potty specialist to find out prices are available in your area.
Frequently Asked Questions
How many porta potties should I rent? The number of rentals depend on the number of people at the event. There should be at least 1 portable toilet per 50 guests, although we find for events where food and beverages are service, guests are more comfortable if there are more units available. In that case we suggest at least 1 porta potty per 35 guests for maximum comfort.
Is same day drop off and pick up available? We will try but this is depending on the time of day you call as well as product and delivery driver availability. If for some reason there is a high volume of portable toilets being delivered to or around your area, we may ask that next day pickup be available to ensure proper handling.
Is there a discount for renting multiple units? Yes! If you plan on renting multiple porta potties in San Antonio, we are able to provide a discount as long as we have enough inventory.
Do porta potties include a sink? Typically, no. While they do have a hand sanitizer, an actual sink with running water is an upgrade that can be added to some rentals.
What does a basic standard San Antonio portable toilet rental include? With your basic rental, you can expect a porta potty with a non-flushing toilet, 2-3 rolls of toilet paper and hand sanitizer.
Where are portable toilets are used? Porta potties in San Antonio can be found at construction sites, during full home renovations or at special events such as weddings, concerts and outdoor festivals.
How long can I keep the potty? You can rent any number of portable toilets for a single day, a week or month to month. We are able to work with your time frame.
Do portable toilets have air conditioning? Standalone porta potties in San Antonio do not have AC however, they do have multiple ventilation slits to let in fresh air and eliminate odors. If AC is a requirement for your event, you may be looking at renting a restroom trailer in San Antonio.
What are the measurements of a standard portable toilet? Dimensions of basic and deluxe portable toilets are typically 16 square feet, about 4 feet wide and between 7.5 to 8 feet tall. ADA compliant porta potties have additional interior space, typically about 40 square feet to accommodate a wheelchair.
Get Porta Potty Rental Prices in San Antonio - Call Now:
(210) 418-1609
We Deliver Porta Potties to All San Antonio Neighborhoods Including:
Alamo Farmsteads-Babcock Road
Avenida Guadalupe
Beacon Hill
Community Workers Council
Culebra Park
Dellview Area
Great Northwest
Greater Harmony Hills
Harvard Place-Eastlawn
Heritage
Hidden Cove-Indian Creek-Southwest
Highland Hills
Highland Park
Jefferson-Woodlawn Lake
Kingsborough Ridge
Los Angeles Heights-Keystone
Monte Vista
North Central Thousand Oaks
Northwest Crossing
Northwest Los Angeles Heights
Oak Park-Northwood
Palm Heights
Pecan Valley
Prospect Hill
Quintana Community
Rainbow Hills
Riverside South
Shearer Hills-Ridgeview
Sierra Springs
Sonterra-Stone Oak
South Southwest
Southwest
Stone Oak
Sunrise
Third World
Thompson Community
Thousand Oaks
Thunderbird Hills
University Park
Vance Jackson
Ventura
Villages Of Westcreek
Woodlawn Lake
Woodstone
We Also Service:
Alamo, TX
Alamo Heights, TX
Balcones Heights, TX
Castle Hills, TX
China Grove, TX
Converse, TX
Elmendorf, TX
Hill Country Village, TX
Hollywood Park, TX
Kirby, TX
Leon Valley, TX
Live Oak, TX
Olmos Park, TX
San Antonio, TX
Shavano Park, TX
Terrell Hills, TX
Von Ormy, TX
Windcrest, TX
78054
78073
78109
78148
78150
78201
78202
78203
78204
78205
78206
78207
78208
78209
78210
78211
78212
78213
78214
78215
78216
78217
78218
78219
78220
78221
78222
78223
78224
78225
78226
78227
78228
78229
78230
78231
78232
78233
78234
78235
78236
78237
78238
78239
78240
78241
78242
78243
78244
78245
78246
78247
78248
78249
78250
78251
78252
78263
78264
78265
78268
78269
78270
78278
78279
78280
78283
78284
78285
78288
78289
78291
78292
78293
78294
78295
78296
78297
78298
78299
CleanBox Porta Potty Rental
1036 S Alamo St
San Antonio, TX 78210
P: (210) 418-1609